Can Vaping Help Reverse COPD Harm?
Vaping can help reverse some of the harm caused by smoking in people suffering from chronic obstructive pulmonary disease (COPD). That's the finding of a new study published in the International Journal of Chronic Obstructive Pulmonary Disease.
The research found that smokers with COPD who used e-cigarettes showed consistently improved overall health and physical activity, and respiratory infections and other effects of COPD were reduced. They also showed that vaping did not worsen the patients' lung health.
The study looked at two groups of COPD patients for three years. One group of 22 patients switched from smoking cigarettes to using e-cigarettes (or greatly reduced their smoking by vaping), and the other group of 22 who continued to smoke and did not use e-cigarettes during the three-year study. The group that continued to smoke did not show signs of harm reversal.
The new study comes from Prof. Riccardo Polosa of the University of Catania (Italy), and seven other researchers from Italian and British universities and hospitals. Dr. Polosa, a lung specialist and veteran of vaping research, previously showed that vaping can improve asthma symptoms in smokers. He has also followed healthy never-smoking vapers that showed no signs of heart or lung damage after three years of vaping.Even the patients who didn't completely quit smoking improved their health.
The research verified results that had been suggested by an earlier Polosa study. But that study relied on questioning COPD patients about their health over a two-year period, not observation and testing on patients in real time. For the new study, Polosa and his colleagues followed the same patients for an additional year and carefully marked their progress.
Smokers with COPD traditionally have a poor record of quitting cigarettes. That's why the most important effect of vaping for smoking COPD sufferers may be the most obvious one: e-cigarettes provide a viable alternative for smokers who have a hard time quitting.
"While the sample size in our study was relatively small," write the authors, "the results of this study may provide preliminary evidence that long-term use of [e-cigarettes] is unlikely to result in substantial health concerns in COPD patients."
"Quitting smoking is a key strategy not only to prevent the onset of COPD but also to stop its progression to more severe disease stages," Dr. Polosa said. "Given that many COPD patients continue smoking despite their symptoms, the electronic cigarette could be an effective and safe alternative to the tobacco cigarettes also in this vulnerable population. Over an observation period of three years, only two patients (8.3%) relapsed to cigarette smoking, and both patients were dual users."
Even the patients who didn't completely quit smoking improved their health. They decreased their cigarette consumption by at least 75 percent, and showed reduced COPD symptoms and better overall quality of life.
Perhaps the best result of this study would be wider acceptance of vaping as a medical strategy to help smoking COPD patients avoid further damage to their lungs.
United Vapers Alliance: Vaping Advocates and Leaders Hold Successful DC Rally
Over 20 vaping consumer advocates shared life-changing stories during the rally on their journey to vaping and how it has positively impacted their friends and family since switching to a tobacco-free lifestyle.
WASHINGTON, Sept. 5, 2020 /PRNewswire/ — Vaping advocates from across the country descended on Washington D.C. on Saturday to show support for small vapor businesses and to demonstrate to President Trump that their votes have the power to change the upcoming election. Vaping advocates demanded President Trump push for the Food & Drug Administration to reform the Pre-Market Tobacco Application (PMTA) process or extend the cutoff before the looming deadline of Sept. 9. With 14,000 small businesses in jeopardy of vanishing overnight, the FDA is still tracking towards the Sept. 9 deadline requiring small businesses to file pricey and burdensome PMTAs to keep their products for sale.
Organized by United Vapers Alliance, advocates peacefully protested to show the world that "We Vape, We Vote" is a movement that has the influence to disrupt the upcoming election with millions of potential votes up for grabs. The vaping advocates vowed to continue to push elected officials to reject prohibitionist policies that threaten access to life-saving vapor products.
"If President Trump does not deliver on real reform at FDA, he is not only risking the destruction of an American industry, but he will be also be creating a situation where millions of adult ex-smokers could return to deadly combustible cigarettes," said Dimitris Agrafiotis, who serves as executive director of the Tennessee Smoke-Free Association. "HHS Secretary Alex Azar has pledged PMTA reform, but he failed to deliver. Now, it is up to President Trump to stop the FDA from destroying 99% of the industry and leaving 160,000 Americans unemployed in the middle of the COVID-19 pandemic."
Despite fearmongering by special interest groups, vapor products manufacturers are not Big Tobacco and their technology products should not be subject to the same regulations. Studies have repeatedly shown that vapor products expose users to a tiny fraction of the harmful chemicals that cigarettes contain. Millions of adults throughout the United Sates have successfully quit smoking cigarettes because of vaping products.
Over 20 vaping consumer advocates shared life-changing stories during the rally on their journey to vaping and how it has positively impacted their friends and family since switching to a tobacco-free lifestyle. They were also joined by featured speakers and leaders in the industry Dimitris Agrafiotis, executive director of the Tennessee Smoke-Free Association; Amanda Wheeler, president of Rocky Mountain Smoke-Free Alliance; and Gregory Conley, president of American Vaping Association.
This is UVA's second annual Save the Vape rally and they continue to ask vaping advocates from across the nation to call the White House Switchboard and say, "We Vape, We Vote".
About United Vapors Alliance
United Vapers Alliance (UVA) educates the public and politicians regarding the benefits of harm reduction via vapor products, and strongly conveys that changes must be made, within the FDA, to provide an economically feasible pathway to market. Currently, the FDA pathway to market is not obtainable for small and medium size manufacturers. The only entities that can afford the FDA pathway to market is Big Tobacco, while more than 11,000 family owned vapor businesses will shut their doors. Left unchallenged, 99% of the vapor products, will exit the market in September 2020. UVA does this via social media, public events and grassroots activism. For more information about UVA, please visit unitedvapersalliance.org and @AllianceVapers on Twitter and @UnitedAllianceVapers on Facebook.
Media Contact: Abigal Anello, aanello@novitascommunications.com
SOURCE United Vapers Alliance
Related Links
Are Vapers Saving The Environment?
Cigarette smoke is also extremely harmful for the environment because tobacco smoke contains approximately more than 7,000 chemicals and 70 of them can cause cancer.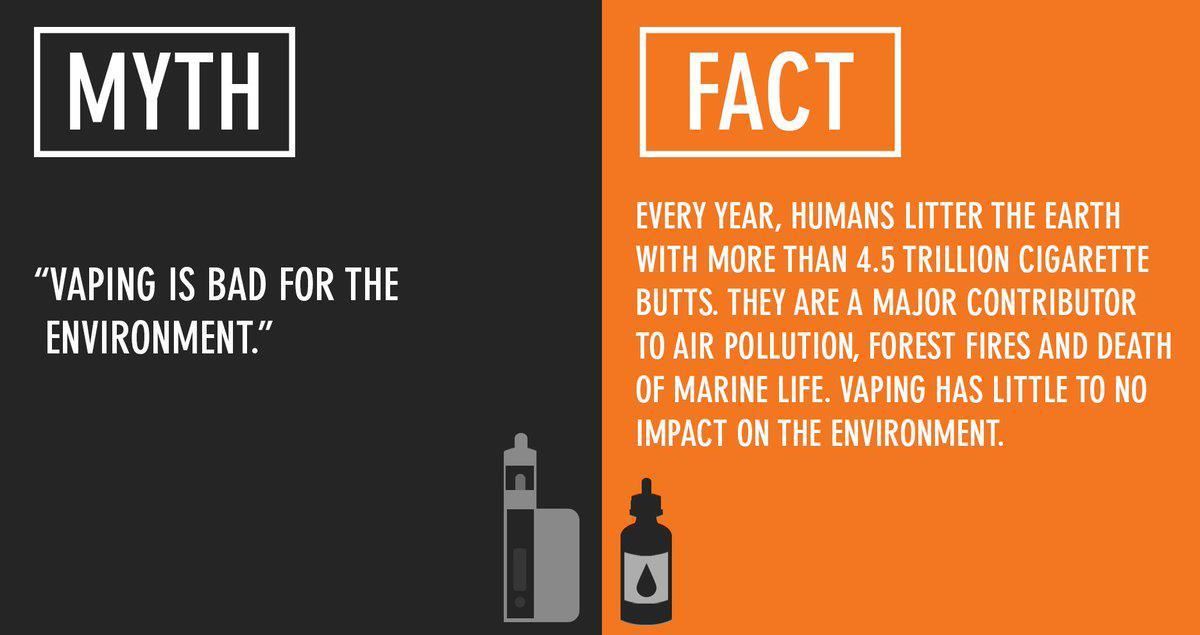 We have been in this vaping vs smoking debate since we were first introduced to vaping. Here's another topic of debate that revolves around vaping vs smoking.
Is smoking better for our environment or vaping?
Let's find it out below.
Smoking
It has been a part of this world from the longest we can remember. From the start we have read about how smoking cigarettes harms our environment.
We can't deny facts, smokers leave cigarette butts behind that are found in trash cans on our sidewalks, roads, and parking lots. Cigarette butts are still one of a major problem we are facing to this date.
They take around 18 months to 10 years to decompose! Which means that the cigarette filters are full of tar, nicotine, and other toxins that can seep into the ground and affect every organism that comes into contact with them. Furthermore, these cigarette leftovers are pushed by rain into drains and eventually reach the ocean where they release toxins.
Cigarette smoke is also extremely harmful for the environment because tobacco smoke contains approximately more than 7,000 chemicals and 70 of them can cause cancer.
Even, excessive exposure to secondhand smoke gravely affects the cardiovascular system and can cause coronary heart disease and strokes.
Vaping
On the other hand, vaping has been used as a tool to help smokers quit smoking because It helps reduce the exhale and inhale of toxins.
Vape devices use a small or no amount of nicotine and just have flavorings added to the E-liquids.
Most vaping devices have refillable pods and tanks which means most devices are reusable. This quality makes vaping eco-friendly, because vaping doesn't play a part in contributing to the planet's pollution.
Vaping smoke doesn't release harmful toxin and e-cigarettes do not really produce smoke so vaping in public is not harmful.
People don't usually mind vape clouds but smoking in public places is considered to be extremely harmful and is not at all accepted by the community.
This information that we have gathered is enough to understand that vaping is a better alternative to smoking. Aside from our own health, vaping is also not harmful to the people around. As well as it adds to the well-being of our mother earth.
Source: https://alectrofag-77.webself.net/blog/2020/07/17/vaping-vs-smoking-in-terms-of-our-environment
Steve Forbes Takes On Vaping
Steve Forbes on the deadly truth behind these anti-vaping campaigns and on the facts we need to consider when it comes to the most effective alternatives to smoking tobacco.